Hirsch Abelsky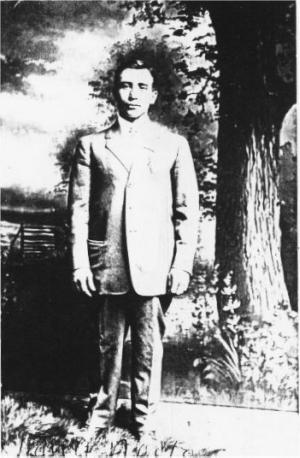 On November 15 1901, Harris Abelesky arrived in Boston, traveling from Liverpool. He'd been living in Middlesbrough, England for some period of time before immigrating to America.
Hirsch Abelsky, hebrew name Tsvi ben David, was born in 1884 in Lozdzei, which was at that time part of the Russian Empire in the Suwalki Gubernia, Bialystok Province. So far, little is known about his father David. Harry told his daughters that he had to leave home at 13 to avoid conscription into the Tzar's army. My theory is that he went directly to Middlesbrough, Yorkshire, England.
In 1901 when Harry is 18, he was living in Middlesbrough at the home of Hyman Smollan using the name Harris Abelsky. Hyman Smollan was a tailor, and Harry was working as a tailor, possibly for Smollan. There was a Taube Judas Abelsky, born 1845 in Lozdzei who married Yitzchak or Icko Smollan, born 1847. Taube's father was Benjamin and Yitzchak/Icko's father was Orko. They were married in 1862 in Lozdzei and moved at sometime between 1866 and 1870 to Middlesbrough where they became Julia Matilda and Isaac Smollan. I'm not certain yet of the connection between Hyman Smollan and Julia Abelsky Smollan, or the link between Julia Abelsky Smollan and Harry Abels -- but I'm working on it! :-)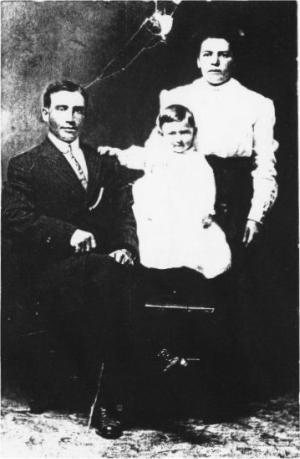 Harry may have lived in Philadelphia as well for some time. On Nov, 29 1904 in Philadelphia, PA, Harry married Anna Rappaport. Anna was born in Upina, Russia on October 05, 1884.
Harry and Anna moved to Illinois in June 1906, according to Harry's petition for naturalization. In 1910, Harry and Anna were living in Robinson, IL at 1008 East Main St. Harry was working as a junk dealer at an oilfield. David was 10 months old.
David Abels was born in Robinson, Illinois on May 22, 1909 and died in Robinson, Illinois on July 28, 1983. David married Ruby Hurd (September 23, 1910 - September 26, 1996) on December 28, 1936 in Chicago, IL.
But we're getting ahead of ourselves! Let's go back to 1910 for a moment. It's interesting to note that Harry was using the name Abels on the 1910 census record, because he hadn't yet changed his name, but clearly had been thinking of it for some time. Finally in 1913 he legally changed his name, the same year that his naturalization became final.
On Sept 12, 1918, when filling out his WW1 draft registration, Harry and Anna were living at 607 S. King St. in Robinson and he was a Junk Dealer at 702 E. Main. On the second page of the registration, he indicates that had gray eyes and brown hair.
In the
1920 census
, we see that Harry and Anna own their home at 607 S. King St.
Anna died in Robinson, IL on December 30, 1926 from peritonitis from a ruptured appendix. She is buried in Terre Haute, IN at the Highland Lawn Cemetery with Harry and their son David.
Harry was urged by friends to find another wife quickly. They may have felt that a his son Dave, now 17, still needed a mother figure, or that a man should not be alone. There were a paucity of Jewish women in Robinson, but somehow the grapevine found a woman in Chicago who seemed a good match for Harry.
Ida Zucker had emigrated from Romania in 1907 and was still living with relatives in 1927. You can read The Zucker Family Page for details of Ida's history. Harry married Ida Zucker on October 27, 1927 in Chicago, IL, and in the 1930 census we see them living at 411 East Walnut St. in Robinson, IL. Harry owned his own home, which was valued at $3,000 and they had a radio. Living with them was Harry's son David. Dave was working as a bookkeeper in an office. Also living with them was Harry and Ida's daughter Geraldine, 10 months old, and daughter Phyllis (hi Mom!) was born not long after, in July 1930.